Competition without competing
On Saturday 9th April I went down to Exeter for only my second ever indoor rowing competition, the Fitness Matters Devon 1k and Team Relays. Competition is the official description, I never made any bones about being competitive! If this is your first visit to the blog, welcome! Long-time readers will no doubt be stunned to know that I've been giving the event some thought. Because I'm a caring sort of guy, I'll share those with you.

The Concept 2 indoor rowing machine is pretty much the gold standard of rowing machines and has been setting the tone for 40 years now. If you've ever set foot in a gym you'll know what I mean. It looks something like this
and you're pretty much always guaranteed to be able to get on one, no matter how busy the gym is. There's a reason for that! They're pretty much despised by the gym cardio junkie and the meathead (and all stops in between) in equal measure. They're self-propelled but against resistance and among Concept 2's many contributions, the performance monitor is right up there, you get instant feedback from moment to moment on how you are doing… tyrannically so. This is the source of its other, socially accepted moniker, the erg (from ergometer – a work measurer).

So, I found myself driving down the M5 on a drizzly Saturday morning questioning, not for the first time, my sanity. What was I doing? Why was I going? The 1km world records spread the times between 2 mins and 40 seconds to 5 minutes and 56 (for the lightweight female over 90 year old category… yep, take a moment to process that. What's your excuse for not trying?). My personal best for the distance was 3mins 18.9 seconds. So I was spending an hour and a half each way in the car for somewhere in the region of 3 and a half minutes of panting and sweating. Of course, expressed like that, I've known people drive much further in that pursuit!

Back on topic. Why? I was under no illusions, in my age and weight category I was going to be nowhere near the medals, so it clearly wasn't gold fever that led me to hitch up my wagon and hit the trails.
"Austin Powers in Goldmember" New Line Cinema
Personal achievement? Perhaps but I do all of my indoor rowing on the erg in our utility room. I could commute about 20m from my sofa for personal achievement. Actually, there is something about taking yourself out of your comfortable surroundings and still seeing if you can deliver against your ability. Maybe it is that? No, I like coming out of a scrap, even if I know I've been beaten but refusing to accept defeat, but that's not what was propelling me south like a swallow heading for warmer climes.

Like most things, it comes down to people. Other people and their outlook and bearing impact hugely on our impression of a job, a company, a family, a pub, a concert, a festival…a sports event. Since my last event back in October 2014, I've had the door opened on an active, global but compact, community. Brought together by the internet. There's a real family vibe to a lot of it. Mutual support, feedback and advice and, like even the best regulated of families the occasional sense of humour failure, misinterpretation, argument, bickering and spat. But I type that with a rueful smile and from a place of fondness, the experience has been overwhelmingly positive.
There's something a little unreal about the interweb people thing though. You can find a niche of communication with somebody and get on well enough remotely but for the old-fashioned among us, it is not the same as actually meeting some people (and while grooming is a very serious issue, I'm barely ok in a limited way for an off-night and frankly too heavy for a kidnapping attempt, so was pretty confident that wasn't an issue here). So that was it, I was heading south to meet my people!

And that's where it gets tricky for me. I'm a bigger personality when in my comfort zone and I combine that with a social awkwardness which has meant that in the past people have forgotten meeting me between first and second occasions, albeit we've been steadfast friends since. So there I was in the car on my own save for my shallow self-confidence, wondering what the hell I was doing!

That evaporated within minutes of getting out of the car in Exeter. There was the ever-so slight, familiar intensity in the air of people readying for an event but there was a warmth of welcome. Introductions, a strange word for people you've spent a lot of time conversing with, but what else to call it? But then an easy rapport. And the event was smoothly run. Sam and his team (including his family) put on a good show.
The first heat set the tone with a rapid and fiercely contested showing among the top-seeded male heavyweight aged 30-39. Then a one-minute world record attempt from John Gibbins in the male over 70 category. Which he nailed. And the day continued to tick away. Men, women and children. Under 10s to over-70s. The rapid and the not-so rapid. The highly experienced and the erg virgins (yep, there were some who'd barely touched an erg before), all sharing the same space in the pursuit of the same endeavour - giving it everything on a machine which goes nowhere and is singularly indifferent to all the thrashing going on around it!

And ultimately, whether it is real life competition or getting involved in the online community, that's where it is at, giving everything. It is easy to look at the big boys and girls and go "wow, we're not worthy" and downplay your own achievements on that basis. But their journey is not yours. Even on your own voyage, you have to start from where you are, not where you wish you were or where you used to be. It's an odd concept to get used to when you come from a sporting world which is much more black and white, much more binary. If you're not winning, you're losing.
from Talladega Nights (Sony Pictures)
It's hard to maintain the focus on your process goals when you're so much in the shadow of the top flight. I came in a full minute behind the winner in my first event, and equivalent differences in the other two. 18 months later, in a "race" over half the distance, I still came in some 20 odd seconds later. Not enough time for them to have regained their composure but still a breath-taking difference. But, in a further quote from Ricky Bobby
Fast is relative to me. The delivery in a time trial has to be fast in my world, not theirs. With my legs and lungs, not theirs.

And that's what I got. A good day out. To talk to some great boys and girls, to get to know them a little better and to see the fruits of their training endeavours. And a PB.

Did I not mention that? Yep, I set a new personal best. I'd told Sam when I entered that I'd be aiming for somewhere about 3:20. I was hoping to hit my PB at 3:18.9 but was giving myself some wiggle room as I had been ruined at the end of that effort which had been a paltry 2s improvement. I set off hard, with a couple of shorter, quicker strokes to get things moving (thanks to Cameron Nichol of Rowingwod for showing me that one). The intention had been to slow my pace down after that, settle into a rhythm and look to build at the end. And in my head, that tape was playing. I could hear Ollie on the PA saying that I'd gone off very quickly and could see that I was a couple of metres ahead of the next guy in my heat (which was mostly guys from another category, so shouldn't have mattered).
The voice in my head was echoing that "you've gone off quickly". Apparently I wasn't going to make a cox of myself as ignored the voice as it got increasingly strident, "slow down...slow it down...SLOW...IT...DOWN!". And the engine building work that Sam (Fitness Matters Indoor Rowing) has had me doing recently via his online programme rpaid off as my rate didn't slow and I felt relatively comfortable. My pace slowed a little but while the voice in my head was warning of impending crash and burn ("don't make a prat of yourself in front of all these people!") and my legs were feeling a little edge of burn around them, it felt ok.
The rhythm of the handle hitting my torso became comforting, like the beat of the galley drummer.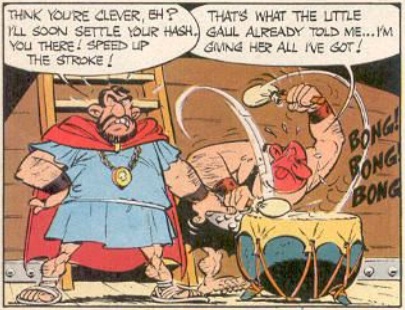 From Asterix by Goscinny and Uderzo, if you've never read any, you're missing out
The breathing was getting ragged and my inner wallflower was getting uncomfortable with the distant sound of Ollie talking about keeping an eye on me. Normally that would throw me completely but I was narrowing my focus (and vision slightly worryingly) on trying to hang on to the pace with each pull. And then it was done. All over. I had beaten myself...senseless! And as things came back into focus I realised that I'd beaten my PB by 9s. It hadn't been intentional and it hadn't been something that I'd been working towards but it had happened. I'm still a bit stunned by that to be honest. By way of context for the non-cardio peeps among you, it's the equivalent of sticking 10kg on my deadlift PB. Although if that happened I'd be too busy being delighted to be surprised...what's that all about?

So, what's the moral of this story? Get involved! Don't worry about whether you're good enough or not. If you never try, you never will be (no matter how many times you tell me people that you're awesome from the comfort of your keyboard). I'd recommend Fitness Matters events but there are other indoor rowing events on the calendar too. Get amongst them. Supporting them will help the sport grow and thus take this activity that you're getting into out of the shadows. More than that, you too will find people who will support you out of no sense of obligation but out of respect for your work, all of which as you find yourself going further and faster than you'd have accepted as a possibility before. Or as Jerome K Jerome wrote in "Three Men in a Boat"
"It is in our faults and failings, not in our virtues, that we touch each other, and find sympathy. It is in our follies that we are one."
Sure, it is not easy but let's be honest, nobody really values what comes easy!
Look forward to seeing you one day.